High Torque Quartz Pendulum Movement - Dials up to 3/8 in. thick - MVT212HT
$49.99
Shipping: Calculated at checkout
Model #: MVT212HT
Buy in bulk and save :
Buy 5-9 and save

$

20.49
Buy 10-24 and save

$

21.04
Buy 25-49 and save

$

21.49
Buy 50+ and save

$

22.04
Product Description
Quantity:

Price Each:

1+

5

10

25

50
High Torque Quartz Pendulum Movement
This high torque pendulum movement delivers more power to the hands as well as the pendulum. In fact, this movement will run our 17 1/2" balanced hands as well as a 25" pendulum! The maximum capacity for pendulums on this movement is 100 grams (3-1/2 ounces).
Our 212HT series high torque pendulum movement operates on one "C" cell battery (not included) and will out power anything on the market today. It also includes our exclusive increased minute hand shaft length. This longer minute hand shaft helps to keep longer hour and minute hands from binding as they may on a conventional movement. This increased spacing also makes assembly with longer hands easier.
Just because this pendulum movement can operate both large hands and a long pendulum do not let that limit your possibilities. This is the perfect movement for using with wall clock designs with normal dial and hand sizes but with a long pendulum.
Dimensions: 3" w x 3 1/2" h x 1" d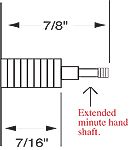 The most powerful quartz pendulum
Operates up to a 25" pendulum
Exclusive added space between hour and minute hand
Fits up to a 3/8" dial thickness
Clock hand shaft diameter 7/16
Clock hand shaft total length 7/8
Clock hand shaft threaded shaft length 7/16
Operates on one "C" cell battery (not included)
Pricing includes movement and mounting hardware only! Because of the versatility of this movement we have priced the hands and pendulum options separately. Order only what you need for your particular clock design.
Available Accessories
The following accessories are available for the product above. You may purchase these at an additional cost, unless noted otherwise.