Mini Quartz Pendulum Movements - No Bob, Dials Up to 3/4in. thick - MVT2203T
$29.99
Shipping: Calculated at checkout
Model #: MVT2201-MVT2204
Free Clock Hand :
At checkout you will be prompted to select your free set of hands for purchasing Mini Quartz Pendulum Movements
Buy in bulk and save :
Buy 5-9 and save

$

13.49
Buy 10-24 and save

$

14.04
Buy 25-49 and save

$

14.49
Buy 50+ and save

$

15.04
Product Description
Quantity:

Price Each:

1+

5

10

25

50
Mini Quartz Pendulum Movements
Please note, options with a Bob and Rod included will result in a price increase as noted in the option box.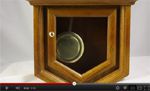 Click here to see an example of a standard pendulum
We are so proud to actually be able to offer you an American Made quartz pendulum movement!
This is our smallest pendulum movement and has been "standard" in American manufacturing for years. We have changed the back of the movement so it is better able to sit flat against a wall. You can choose from 4 shaft lengths and 3 sizes of pendulum bobs. All pendulums consist of a 16" adjustable pendulum with your choice of 3 pendulum bob sizes. You can easily trim the pendulum rod to any length under 16".
FREE CHOICE of over 40 pairs of hour and minute hands is included as long as they are NOT longer than 5 inches. You just have to choose the design you would like prior to checkout.
See the link to clock hands at the bottom of the movement page. Please do not assume that any clock hands
you have will fit, as the mounting holes are not standardized. Mounting hole sizes and shapes are shown at the
top of the clock hands link. If you do not choose a FREE pair of hands (Only for Minute hands less than 5 inches in length are Free) with your movement purchase and later decide that you need them, there will be a $5.00 charge for us having to make a second shipment.
These American made movements will operate a second hand, but second hands are considered optional. See
the bottom of the movement page for the link to our selection of second hands. All models have a 5/16" shaft
diameter so a 3/8" mounting hole is the correct size to drill in your case.
Dimensions: 2 1/8"w x 3 3/4"h x 7/8"d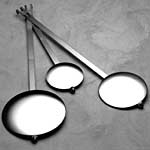 1 Year Warranty
American "I" Shaft - Diameter 5/16"
Step Second Hand
Operates on 1 "AA" cell battery(not included)
Available Accessories
The following accessories are available for the product above. You may purchase these at an additional cost, unless noted otherwise.