Tide Movement - 3 3/8 in. Gold - HH2003
$33.95
Shipping: Calculated at checkout
Model #: MVT7160T
Buy in bulk and save :
Buy 5-9 and save

$

16.45
Buy 10-24 and save

$

17.00
Buy 25-49 and save

$

17.45
Buy 50+ and save

$

18.00
Product Description
Quantity:

Price Each:

1+

5

10

25

50
Tide Movement

These quartz movements are specifically designed to give you an accurate reading of the rise and fall of the day's tides. Based on lunar day of 24 hours and 50 minutes, these American Made tide movements use a standard hour hand to display the daily tide activity.
Now available in two popular shaft lengths, our tide movements can be used with our 6" or 7-7/8" aluminum tide dials, or with a tide dial of your own design
Example of a Dial
used to measure the Tide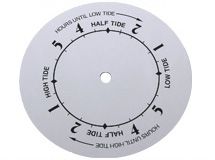 Click here for 6"
Click here for 7 7/8"
Dimensions: 2 1/8" W x 2 1/8" H x 5/8" D
Price includes choice of an hour hand as an indicator hand, which can easily be trimmed to a shorter length, and brass mounting hardware. If you would like a different style of indicator hand, you may purchase any pair of I-shaft hands and use the hour hand (short hand) as the indicator. Hour hands are normally 2/3 the length of the corresponding minute hand. The maximum length of a tide indicator hand that can be used is 6".
Available Accessories
The following accessories are available for the product above. You may purchase these at an additional cost, unless noted otherwise.