ISI AA High Torque Pendulum Clock Motor
$32.99
Shipping: Calculated at checkout
Model #: MVT412PM-HT
Buy in bulk and save :
Buy 5-9 and save

$

9.74
Buy 10-24 and save

$

10.49
Buy 25-49 and save

$

11.24
Buy 50+ and save

$

12.49
Product Description
Quantity:

Price Each:

1+

5

10

25

50
ISI AA High Torque Pendulum Clock Motor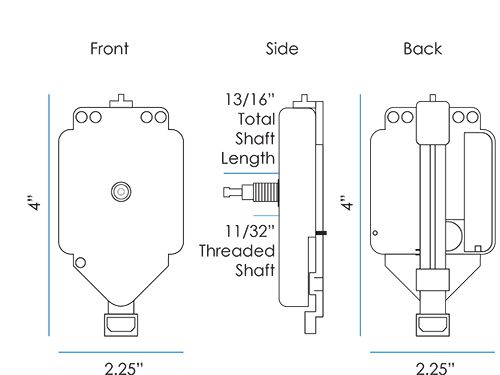 This New ISI AA High Torque Pendulum Clock Motor is destined to be an industry leader because it "TURNS UP THE TORQUE " PENDULUM STYLE!" It offers you the best of both worlds a pendulum function combined with a time function operating on a single AA battery.
High Torque Pendulum and Clock
We are delighted to introduce to you another exclusive Motor to our line of high torque pendulum clock movements. When shopping for a competitively priced dual purpose movement this ISI High Torque AA Pendulum Motor is both a time and pendulum product.
This MVT is an exclusive offering and not available anywhere else. It can be ordered under part number MVT412PM-HT. This product offers you a compact size and makes it appropriate for repairs and Do It Yourself Projects.
Relying on our 40 years of experience in the production of parts, components and fully assembled clocks we have put our engineering to the test with this new motor design. The result was an impressive accomplishment. Our customers have been requesting this MVT and we are very proud to deliver it.
Clock Parts Catalog
Our website is chalked full of parts, diagrams and suggestions to assist you in selecting the right parts and components. Many of our customers have used our parts to restore collectibles.
A standard AA battery operated movement will typically drive hands up to six inches. Longer hands require more torque to make an accurate time rotation. This requirement for more torque was our reason for engineering the MVT412PM-HT.
When your project requires hands to be 6 inches or longer and the ability to move a pendulum this is the product for you.
The additional power or torque achieved with this ClockParts.com exclusive is exactly what is required to drive longer hands and produce accurate reliable time.
Every motor is designed to drive clock hands up to a certain length. When a standard movement is used with longer hands than the quartz clock movement is designed, the time piece will run slow or stop running all together.
Clock Repair
Please take care when selecting the correct MVT to adequately power your hands. If you have any questions please remember that ClockParts.com offers free technical telephone support and dozens of clock repair training videos to assist you.
The pendulum element of this movement is also very impressive. A pendulum has two parts; a Rod and a Bob. The rod is the part that hangs down from the motor. The mechanics of the MVT412PM-HT will swing a rod up to 30 inches long.
The bob is the object that is connected to the bottom of the rod. This high torque movement has the power to swing a bob weighing up to 40 grams.
Clock Pendulum
The pendulum aspect of the MVT412PM-HT does not affect the time element of the MVT. It is an independent function and does not have any bearing on the time keeping function of the movement. This allows for greater flexibility in the construction of your DIY project or the repair project.
The ISI AA high torque MVT is the perfect addition to our large selection of high torque motors, large hands and large antique clock dials.  With the demand for a motor that has both a pendulum and a time function, this new ISI product is perfect.
This new ISI pendulum and clock movement extra long shaft can easily be shimmed down with a couple washers to fit any dial face thickness.
The ISI AA high torque motor is offered at an excellent price coupled with unparalleled quality. It is the perfect alternative to our exclusive High Torque C Cell Pendulum. Part number MVT212HT. The difference with this AA motor is that we are able to match the torque to drive large clock hands, but reduce the size of the body to help facilitate the repair process and making a new clock.
C Cell Battery Movements
The C cell battery MVT does not provide any more additional torque than a AA battery clock movement.  What the C cell does provide is longer battery life. The issue for clock repair enthusiasts or professional clock makers was having enough room to install a C cell MVT.
C cell MVT requires move room due to the size of a C battery versus an AA battery. This problem is solved with this new AA battery clock MVT. The smaller footprint is perfect for so many DIY projects.  It provides the needed space flexibility for your repair project or new design; hence its appeal.
The MVT412PM-HT is perfect for building a Grandfather Clock. It allows you to place an AA high torque motor in your project and deliver accurate time and drive a modest size pendulum.
Large Clock Hands
The AA High Torque Pendulum, like all other high torque motors offered at ClockParts.com has an "American I Shaft" clock hands mounting hole with extended space between the hour and minute shaft.  This means that any of the large selection of large clock hands we carry can be used on this motor!