3 1/16 in. Back Mounted Fit-Ups Without Alarm - White Arabic - F78WA
$39.99
Shipping: Calculated at checkout
Model #: F78 Series
Buy in bulk and save :
Buy 5-9 and save

$

8.49
Buy 10-24 and save

$

9.00
Buy 25-49 and save

$

9.49
Buy 50+ and save

$

10.00
Product Description
Quantity:

Price Each:

1+

5

10

25

50
3 1/16 in. Back Mounted Fit-Ups Without Alarm

Once again we have responded to our customers request for a fit-up specifically designed to be mounted from the back of a clock case. Often the appearance of a metal bezel can detract from the look of a wood case, in which the wood itself is the primary feature. Our new F78 series fit-ups solves this design problem both attractively and economically, because on back mounted fit-ups there is no bezel.
Please note that with a back mounted fit-up, that on the front of your case that the hole size should be slightly smaller (3 in. or 2-7/8 in.) than the 3-1/8 in. mounting hole size, so that the glass and fit-up "stops" when mounting from the back.
The depth of this smaller hole size on the front should be at least 1/8 in. These back mounted inserts include an attractive black back cover that fits the 3-1/8 inch hole size from the back.
•Back Mounted design
•Real Flat Glass Lens
•Popular 3 1/8 in. mounting hole size
•Back cover included
•Uses an economical AA powered quartz movement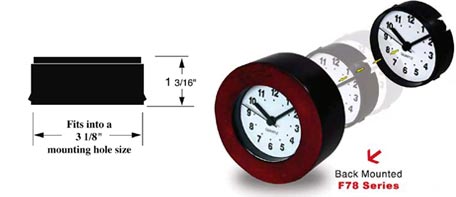 Available Accessories
The following accessories are available for the product above. You may purchase these at an additional cost, unless noted otherwise.