22 in. Antique Clock Dials - Antique Distressed Roman - D22ADR
$39.99
Shipping: Calculated at checkout
Model #: D22
Buy in bulk and save :
Product Description
Quantity:

Price Each:

1+

5
22 in. Antique Clock Dials
The Clockparts.com "Turn Back the Clock" Series is proud to introduce our antique/vintage dials in larger sizes. It's no secret that vintage style clocks are often reproduced on masonite and sold for over $100 in retail stores! Often the quality is very cheap and it shows! At Clockparts.com we designed and printed these dials on masonite in our USA home.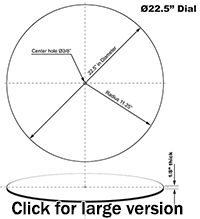 The options are endless. You can simply take the kit and make a floating clock or take our parts and build a frame for the dial to complete your clock. BE CREATIVE! All of this can be done for a fraction of the price and at the same time allow you to use your creativeness to put your personal touches on your clock. Material Thickness for this Dial is 1/8 in thick